All offers for education and advice, as well as group activities are open for women of all backgrounds.

Events like e.g. the monthly women's breakfast, the anual Newroz feast, seminars and up-to-date information events enables getting to know eachtother, exchange and joint celebration in a relaxed atmosphere.
Furthermore, HÎNBÛN appeals to specialists to participate trainings on intercultural openness. Those trainings take place at HÎNBÛN or on site. Please make an appointment by phone: 030 336 6662.
NEWROZ
the Kurdish New Year
In German NEWROZ means "new day". For the Kurds it is the most important celebration, because they demonstrate their national identity and message of liberation from tyranny and oppression with it.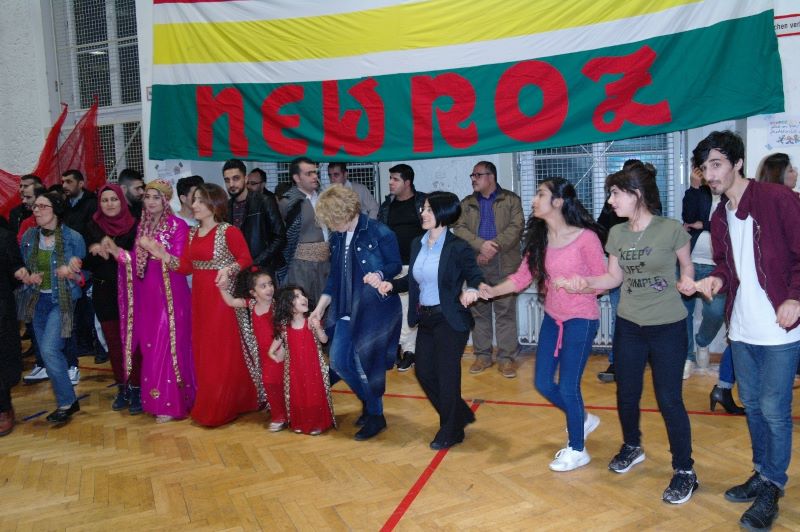 At this day the good chases away the bad, happiness chases away sadness, life chases away death and warmth chases away the cold. On the eve of 21st March fires are lit on the mountains, there is singing and dancing around the fire. People are celebrating under the open sky all day long.
New Years at the 21st March symbolises the beginning of work and production. On the origin of NEWROZ feast different myth do exist.
Here the most common version:
Thousands of years ago there was a Kurdish ruler named Dahak. He carried two snakes on his shoulders. The cruel Dahak fed his snakes with the brains of young men, because he was afraid that otherwise the snakes would eat his own brain.
Everyday, two youn men of the people were killed to feed Dahak's snakes. Everybody was afraid for their male offsprings. However, soon the people were no longer able to bear Dahak's cruelty. Kawa the blacksmith called on the people for rebellion. On the 21st March the people marched under his leadership and with burning torches to the tyrant's castle, destroyed it and killed Dahak and his snakes. This day had been called NEWROZ from now on.
NEWROZ feast means a lot to Kurdish families living in excile and is a cultural highlight every year where they can preserve their culture and community. On New Years eve two women or girls dress themselves up as an old and fragile married couple. This symbolises passed years. They present their frailty theatrically, support each other, speak in a shaky voice and demonstrate that they or rather the old year is coming to an end.
Dressed up like that, they go from house to house. They arouse pity and receive food as presents from ist inhabitants. For fun, the couple and therefore the old year are poured with water for banishing it. At the evening a feast is cooked by all the gathered food and eaten together outdoors. Fire are beeing lit and jumped over.