education centre
Besides the diverse range of consulting services,
educational opportunities are the second big work field of the institution.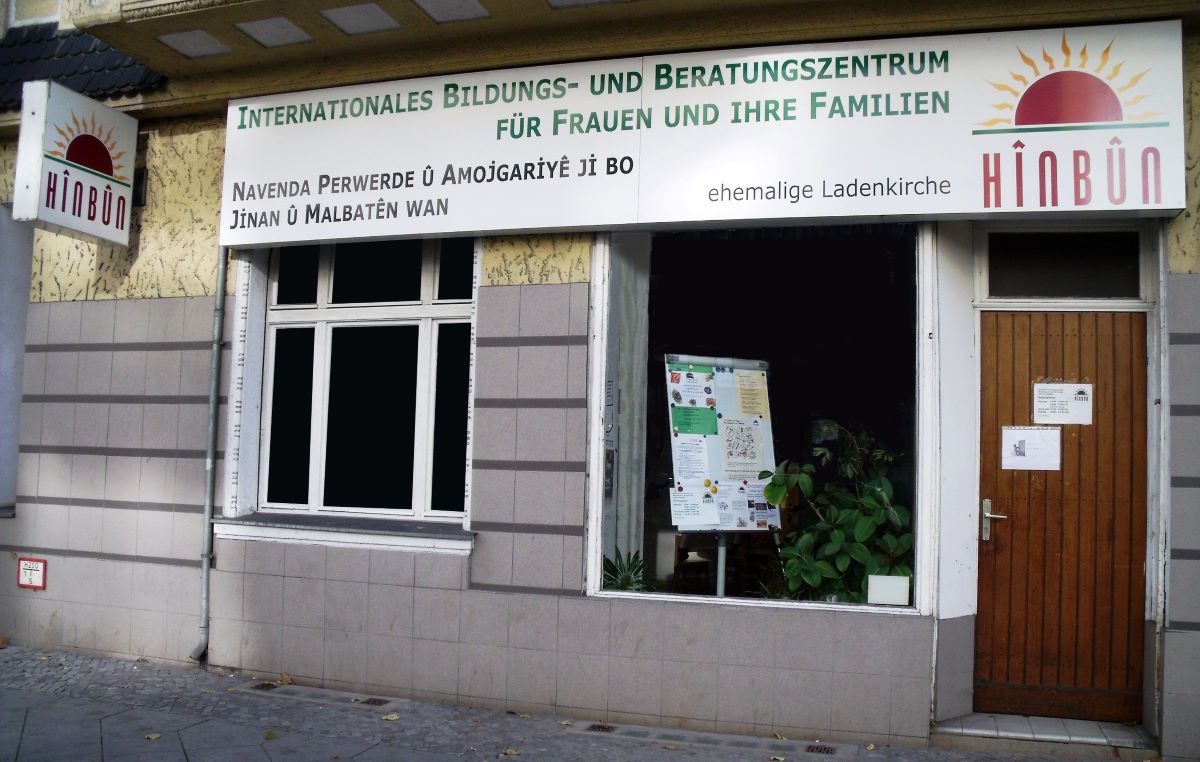 Offers go from the low-threshold communication of informations, events, trips for city exploration and visiting museums to professional orientation and career advancement. For better impressions browse through the rubric "highlights".
Hînbûn initially provides informations in native language on:
recognition of school degrees

labour market (regulated and non-regulated professions)

temporary employment

part-time employment and mini-jobs

aid programmes of the Agentur für Arbeit and education providers

german courses from literacy to business german

application documents and job interviews, particularly in connection with job suggestions from Jobcenter
The main aim is to support women in finding a realistic way into the working world.
Therefore a measuring of competences takes place based on the work and personal experiences of the women and their skills. The women's career aspirations are taken into consideration and we search for possibilities to fullfill them.
In the resulting support plan gradual subgoals are developed together. With an employee those subgoals are reflected and adjusted as necessary or restated.
Experience has shown that the women have to overcome many obstacles including:
psychological burdens, fears, insufficient language skills, low qualifications, no school-leaving qualifications or a school qualification not recognised here and last but not least, having no possibility to invest years into further training for reasons of age.
Particular difficulties have single parents who cannot do shift work because of the lack of childcare or because potencial employers are not willing to respond to requirements of family-friendly working hours.
Here society, employers and politics are challenged to develope prospects for single parents whose numbers will grow steadily.
Conversation group "New Learning"
The conversation group "New Learning" provides a shelter for immigrants to learn everyday German in a learning rate self-chosen. They experience appreciation of their biography, they can deal with their own living conditions, can open themselves to the current social life, they can exchange views and insights and therefore strengthen eachother.
This is made possible by the sensitive work of the supervisor of this language course who knows how to gain the trust of those participating women and who is commited in loyalty and solidarity to them. Because of this gathering those women are really able to "learn differently".
The group meets every tuesdays 10:00 to 12:00 and thursdays 10:30 to 12:30.
Registration is requested.
Women's meeting point "Pink Group"
During the 35th anniversary of HÎNBÛN a women's group was founded that called itself "pink group" with a wink. The name sure does not stand for girls and women dressed in pink, but for experienced women that are able to deal with stereotypes and stereotyped thinking. The groups invites women of all origins to join!
The group meets every Thursday at 13:00.
Registration is requested.
Learning group for learning German for mothers and their children (0 to 2 years old)
With their children in view immigrants learn new words and sentences and can excercise everyday language with other women.
The group meets mondays and thursdays, 09:30h to 11:00h and 11:30h to 13:00h.
The course is currently taking place online: Tuesday 10:00h to 11:30h.
Registration is requested.
Workshops
From the beginning HÎNBÛN looks back on a variety of workshops. Often subjects come up in social councelling that are dealed with more intense in a group with more time. For this purpose, various media are used. The artistic field in different forms is proven to be particularly helpful.
For instance:
a drawing workshop for children and young people in cooperation with the art bastion (Kunstbastion) of the Spandau Citadel on the topic of "what do I know about the homeland of my parents?"

The manufacturing of Kurdish traditional costumes out of paper, with a following fashion show.

a photo safari followed by an exhibition "My new home Berlin".

an artistic workshop for women "I make Berlin…". Women picturesquely depicted under guidance of the art therapist Tanja Zwick what they like about Berlin and what makes Berlin special to them.

a workshop about developing pictograms in cooperation with the artist collective

migrantas.org

, "Immigrants in Berlin".

pictograms for the Spandau network against domestic violence in cooperation with the art collecitve migrantas.org.
Intercultural garden
We go every Friday from 15:00 to 18:00 into the intercultural garden of the SOS Child's village (SOS Kinderdorf e.V.), Gatower Str. 199, 14086 Berlin-Spandau.
Meeting point:
Either at the intercultural garden if the weather is finde or on bad weather days in the educational centre or right beforehand at HÎNBÛN, Fridays at 14:00.
Registration is requested.